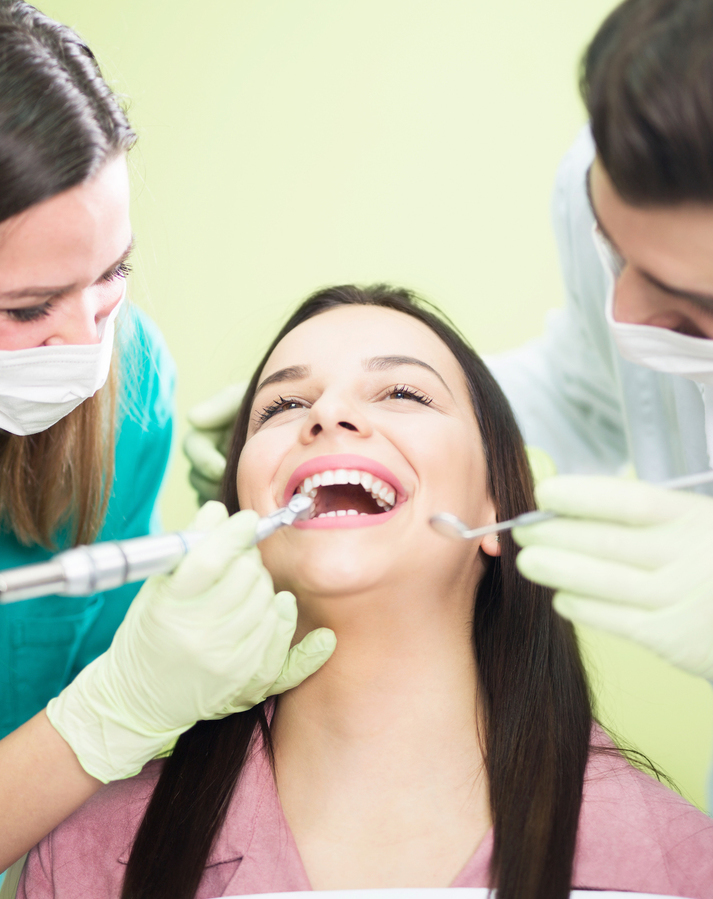 In this case the little things really do add up.
Routine dental cleanings are important to maintaining good oral hygiene. Professional cleaning by a hygienist can remove mineralized plaque that may develop even with careful brushing and flossing, particularly in areas that are difficult to reach. It is recommended you go in for a cleaning once every six months.
You can expect your dental cleaning to last between 30 minutes and an hour. Typically, a trained hygienist will do the cleaning, and a dentist may come in for an exam at the end. Most people find that dental cleanings are painless, and do not cause any discomfort.
There are two important steps to a dental cleaning. The first step is scaling the teeth, whereby the hygienist will remove the plaque and tartar from the tooth surfaces. Typically, the hygienist will also clean the pockets of the gums to remove any plaque buildup there.
The second step is polishing to remove any final plaque and buff the teeth. Polishers generally have several different sized heads to clean hard to reach places.
Routine dental exams are important to maintaining healthy teeth and gums. Additionally, they can help to avoid the financial costs associated with large treatment plans later on. The Academy of General Dentistry recommends twice yearly checkups for people of all ages. At this frequency, most problems can be caught while they remain in an early stages.
The dentist first examines your mouth visually, using dental equipment such as mouth mirrors, assorted dental tools, and high-intensity lights. They will look for cracked and decayed teeth, as well as review other important items such as:
Medical history: The dentist will assess how any new medical conditions or illnesses may affect your dental health.

Examination of tooth decay: Your mouth will be checked for cracked or decayed teeth.

Oral cancer screening: The face, neck, lips, tongue, throat, tissues, and gums will be checked for any signs of oral cancer.

Gum disease evaluation: Your gums and bone around the teeth will be checked for any evidence of periodontal disease.

Examination of existing restorations: Current fillings, crowns, and other restorations are made sure to be in good order.
Additionally, your dentist will take diagnostic x-rays to reveal any other hidden problems, especially in the areas below the gums. Bitewing x-rays are typically taken every 12 months and a panographic x-ray, which revolves around the head, is taken every 3-5 years.
When treating a cavity, the dentist will remove the decayed portion of your tooth and fill it with another substance. This procedure is called a filling. There are multiple options for the material to be used in the filling, the most common of which are composite fillings and amalgam fillings.
A composite filling is also known as a tooth colored filling, since the material used in the filling can be closely matched to the color of your teeth. Composite fillings provide good durability for small to medium cavities, and the procedure typically involves removing less of a tooth than you would during an amalgam filling. They are also particularly well suited for treating front or highly visible teeth because of their natural look.
When can a composite filling be used for?
Decayed tooth (i.e. cavity)

Decreasing the gap between teeth
After the dentist numbs the area where the filling is to be placed, he will remove any decayed portions. A substance is then applied to help open up the pores of your teeth for a stronger bond, and hardened and cured with a special light. Once this is complete, the filling is applied in thin layers to slowly form the complete filling. After the composite has hardened, the filling will be smoothened and polished to be comfortable and fit your bite.