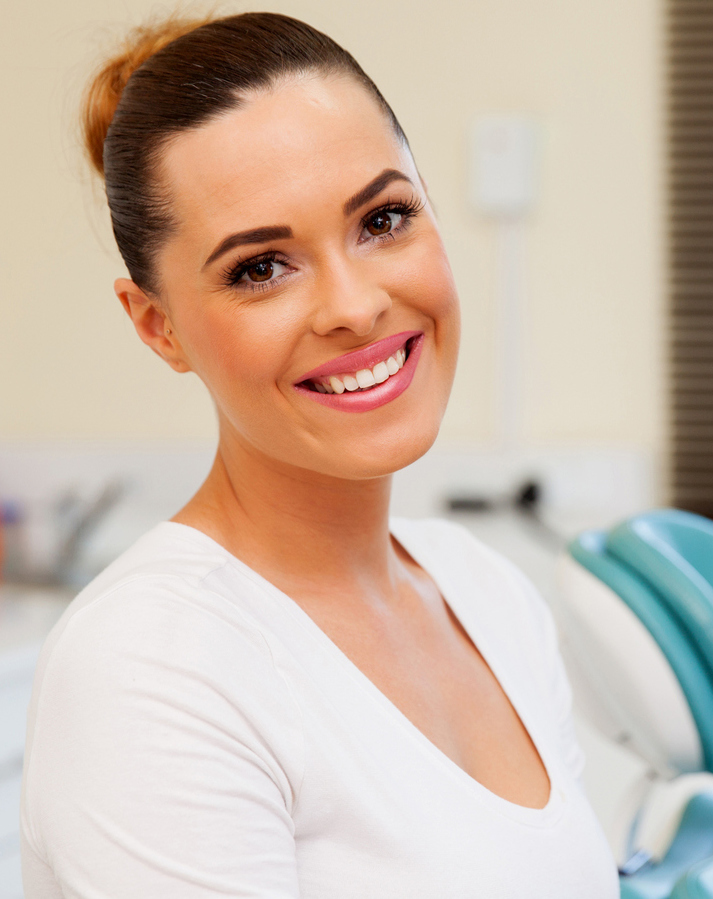 We don't jus fix your teeth, we fix your smile! Here at North Shore Dental Group we offer a variety of services that will make your smile shine brighter!
Compared to fillings which just cover a small portion of a tooth, a crown (or cap) encases the entire visible portion of a tooth. In effect, the crown acts as the tooth's new outer surface.A dental crown is used when a tooth is broken or decayed to such an extent that fillings aren't able to repair the problem. The crown is able to provide a protective shell around the damaged or decayed tooth to strengthen it, as well as to improve the appearance of the tooth. While crowns come in different materials, the most common crowns typically have some mixture of porcelain in them to give them a look and feel similar to a natural tooth.
The first visit to your dentist involves reshaping the tooth and taking impressions to create the crown. Typically a portion of your tooth will have to be removed for the crown to fit properly. After the dentist reshapes your tooth, they will use a special material to create an impression of it. This impression will be sent to a dental laboratory to be made into a permanent crown. Before sending you home, the dentist will provide you with a temporary crown to cover your tooth in between visits.
When you return, your dentist will have received the permanent crown from the laboratory. They will remove the temporary crown and fit the new permanent one. Before cementing the permanent crown in place, they will ensure that it fits comfortably and matches the color of your teeth.
As our enamel wears down teeth can begin to discolor. Due to the wearing down of enamel, a yellow clolored substance called dentin that makes up the core of your teeth begins to show through. This is what gives our teeth a yellowish tint. Teeth whitening helps restore teeth to a shiny white color through the use of bleach.
There are two popular teeth whitening options available through your dentist. The first, in-office teeth whitening, produces a significant color change in your teeth in a short amount of time, usually within an hour. The procedure is done at the dentist's office by applying a high-concentration peroxide gel on the teeth after they have been protected with a special shield.
The second method, involves the use of take-home whitening kits. These whitening kits are purchased from your doctor for use at home. The strength of the gel used in these kits is lower than that used for in-office bleaching, and thus the gel can be applied for longer periods of time. Usually the trays are worn a couple hours a day or overnight for a few days or weeks depending on the product.
It's best to consult your dentist to understand which whitening option is best for you.
Dental veneers are thin custom-made shells that cover the front surface of your tooth to improve their appearance. They are made of tooth colored materials and can be used to improve the color of teeth that have been worn down or stained. Alternatively, they can be used to improve the shape or size of the tooth.
There are two types of veneers that are commonly used. Porcelain veneers are more durable, and resist stains better. The properties of the material also helps to create a very natural tooth look. Unlike porcelain veneers, composite resin veneers are not made in a laboratory, but instead directly applied to the teeth. They typically have a shorter life span, and are less expensive.
When should you consider dental veneers?
You can talk to your dentist about dental veneers if
Your teeth are stained or discolored

Your teeth are crooked or misshapen

Your teeth have spaces between them

Your teeth are broken or chipped
Two visits to your dentist are typically required for porcelain veneers. At the first visit, three important steps are completed. Firstly, your teeth are prepared to be fitted with a veneer, which will involve trimming a portion of the tooth so the veneer can be bonded on top. Secondly, an impression is taken of your teeth or tooth which will be sent to a laboratory to prepare the veneer. Finally, you may receive a temporary veneer depending on how much of your tooth structure was removed. This temporary veneer will protect your tooth while the permanent veneer is prepared at the laboratory.
At the second visit, the temporary veneer, if you received one, will be removed. Then, the new veneer received from the laboratory will be checked to see if it fits well. It's best not to adjust porcelain veneers after they are bonded to your teeth, so any adjustments will be made beforehand. Once you and the dentist are satisfied with the look and feel of the veneer, it will be bonded to your tooth.