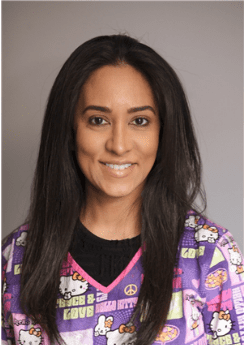 Sabiya Amanat, D.D.S
Dr. Sabiya Amanat is a pediatric dental specialist with over 20 years of pediatric experience. She treats children from infants to teens and emphasizes the importance of good dental care starting at a young age. 
Dr. Amanat graduated with a BA degree in Anthropology from Barnard College in 1992 and went on to obtain her dental degree from Columbia University College of Dental Medicine in 1996. She earned her specialty certificate in Pediatric Dentistry in 1998 from Long Island Jewish Schneider's Children's Hospital with a focus on special needs and medically compromised children. 
Dr. Amanat is also a mother so she understands the concerns and questions that parents and their children bring to her office. She will support you and your child along the entire dental treatment process, providing excellent specialized care throughout. Dr. Amanat's goal is to help your child understand that dental visits can be fun and exciting adventures and that oral health is an important part of an everyday routine. She encourages questions from parents and children alike and is sensitive to your needs. Dr. Amanat develops a caring relationship with your child, so exams and procedures often go smoothly. The diagnosis and treatment of cavities in the early stages, often makes treatment much easier.